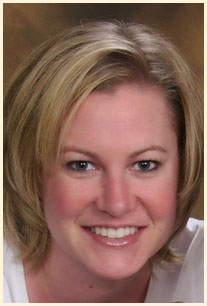 Dr. Jaime Cushing grew up in Naperville, earned her undergraduate degree from the University of Illinois Urbana-Champaign, and graduated with honors from the UIC College of Dentistry in 2007. 
The creativity involved in the work, progressive nature of the profession, and opportunity for interpersonal relationships drew her to the practice of dentistry.  Dr. Cushing enjoys working in a patient centered environment where patient satisfaction and open communication dictate the administration of successful treatment.  She practices all phases of general dentistry and specifically enjoys cosmetic procedures.
A committed academic, Dr. Cushing was a Clinical Instructor in the Restorative Dentistry Department at UIC's College of Dentistry for four years. She prioritizes continuing education in her profession and knows that staying up to date on evolving techniques is critical for long term success in dentistry.
Dr. Cushing currently resides in Evanston with her husband, Adam, and daughter, Abby.  An avid football fan, she loves spending her fall Saturdays watching the Northwestern Wildcats, where her husband is the Offensive Line Coach.
Dr. Cushing is available on Mondays from 9am-7pm, Wednesdays and Thursdays from 9am-1pm and
Saturdays from 9am-1pm.